Delight & Memory light
Delight and Memory light
Furniture lending project successfully operated  in Yoqneam Illit branch  expands thanks to a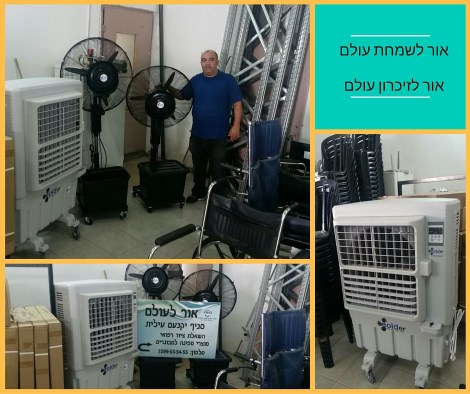 generous donation.
The project was established in 2012, is expanding its scope encouraging Mayor Simon Alfasi in Yoqneam, who gave Light to the World the chairs were used for this purpose in the municipality and all for the benefit of local residents.
From 2016 – are available for loan in the days of joy or grief, in addition to tables and chairs, prayer and pallets for heating food, too cool misty turbo obtained donations for the expansion of its service objects.
Multiple thanks and appreciation anonymous donor, whose generous donation Yokneam added light to the world and has expanded its project lending or furniture days of joy or grief for Yoqneam Illit families, by donating turbo cool foggy and heaters.
If you would like help or help in the world in this field,
Contact Danny Baba, initiates and promotes the idea of giant steps forward !!!
If you would like to commemorate the loved one and donate money or the value of money contact.
Coordination borrowing / memorial – Danny Baba +972-52-2819394
,